The Answers are on the Floor by John Roseberry Shihan: The wait is over. Shihan's book is finally available. Click on the links below to order your copy directly from Shihan. There are two versions availalbe, a B&W edition, and a color edition with larger print. Prices are $12.95 for B&W and $25.48 for the color. An additional $5.00 for shipping is also required. Links can be found on the right hand side of the page.
"If you've ordered a book through this page they will be shipped out on May 7, 2018." –John Roseberry Shihan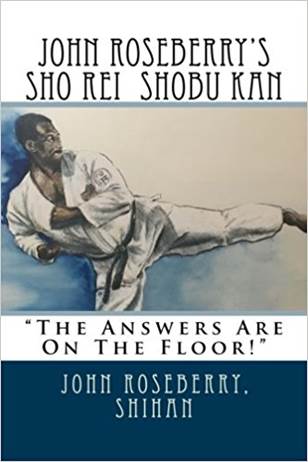 Black and White
Color
CLICK ON NEWS FOR RECENT EVENTS AND ARTICLES!!!!!
Damatte keiko . . . Keep it simple. . .Keep it practical…
Let it make sense. . .Do a little, often…Reward yourself…
The Answers Are On The Floor. . .
To criticize is easy, to help build is difficult…
Mind Like Water
Shorei-Kan SRK Karate Dojo
A family-oriented school
13478 Naylors Blue Drive
Chester, Virginia 23836
402-890-9988 571-438-2901
Please leave message
Email us at: srsbk1@yahoo.com
Assistant Instructors:  Jeri Goble-Roseberry, Sensei; Timothy Roseberry, Sensei